And The March to MARCH campaign has begun.   SEVEN, the documentary play, has already had productions and readings in many parts of the world, but there are vast  numbers of people who still know very little about domestic violence or human trafficking and how this particularly affects women–and what we all can do about it.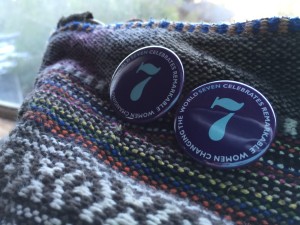 And so, the play continues to reach out into the community to bring the news.
In March 2016, which is International Women's Month, we're hoping that others will join us in carrying the message of human rights everywhere and to all people by organizing and/or hosting a reading of SEVEN.  The play SEVEN celebrates remarkable women  changing the world.  What better way to spend a day in March?  You could read it at a gathering of friends, invite folks over for dinner or tea, or present it more formally at a theatre or performance hall.  For more information, check out The March to MARCH page on the seventheplay.com website.
There's already an event scheduled for March 6 in Seattle and many more on the way.   The basic goal:  Change the way women are treated around the world.   Give them a space at the table.  Hear their voices.  Stop the violence.   Make human rights available to all.   Use theatre for social justice!