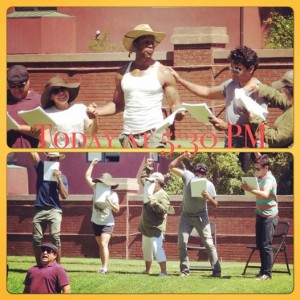 A sampling of some of Paula Cizmar's new work….
Norteño        3 w; 3m   full-length   comedy/drama
A wild and irreverent 21st-century riff on Fuenteovejuna, a Spanish Golden Age play by Lope de Vega. In Norteño instead of the Spain of Ferdinand and Isabella, we're transported to the factories along the U.S.-Mexico border where justice is for sale and all bets are off. But when a gringo CEO can't keep his hands off the local ladies, even the most jaded residents have to draw the line.  The question becomes: Can an entire town really get away with murder?  And who is who, in this play with actors portraying multiple roles on both sides of the border, gender blind casting, and a tale spinner, Mengo, whose first priority is to save his own skin?  (Commissioned by Playwrights Arena, Jon Lawrence Rivera, producing artistic director, in association with the William Andrews Clark Library, for Golden Tongues 2.)
Last Nights of Scheherazade           2w; 2m   full-length   drama
In the Mojave desert, a young woman, Cher, retreats into stories to mask the truth about her abusive marriage.  A musician researching the sounds of desert cultures befriends her, helping to draw her out and face the truth—but his motives become misunderstood and place her in more jeopardy.   A highly theatrical exploration of the thresholds of love, reality, and danger.  (GreenReads @ Seedlings, the new play development wing of Theatricum Botanicum; winner of the Israel Baran Award.   Reading, Dallas Festival of Books, presented by Cara Mia Theatre.)
The Chisera (AKA Lost Borders)           4w; 2m   full-length   drama
A drama about water–or the lack of it.   In a parched lake bed in the High Sierra, a geologist and her daughter come to terms with their failing relationship, the loss of their husband/father, and the spirit of Mary Austin, a woman who once struggled to save the area from destruction.  (Workshop, Cosumnes River College, Sacramento, CA; directed by Cheri Fortin.  Second prize, Ebell of Los Angeles New Play Award.  Reading, Palm Beach Dramaworks New Year/New Play Festival.)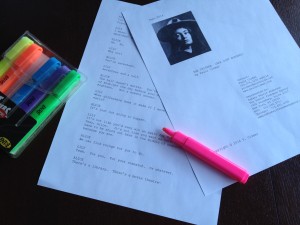 January           3w; 1m   full-length   drama
A child shoots and kills another child and the media erupts in a feeding frenzy. The mother of the victim is the darling of the talk shows; the mother of the shooter is vilified for raising a monster. In her shock and grief, the mother of the murdered boy oscillates between grim reality and imagined encounters with her "enemy"—and in doing so, earns a moment of hope and peace. Nontraditional in structure.  (A finalist for the MultiStages New Works Festival;  staged reading at MultiStages in New York City.  Directed by Lorca Peress.  Nominated for the first Kilroy List.)
Down 4 the Count          2w; 2m   full-length   comedy
A comedy about the economy—if that's possible.  Adrian and Eddy have lost it—their money, their home, their self-respect, their sense of adventure—and find themselves working temp jobs, living rent-free back in Adrian's dead grandparents' duplex in their decaying Rust Belt hometown, dreaming of heading back out West where they once had hope and freedom. Eddy's brother Frank lords it over them with his newfound success and newfound ladylove; and Linda Jean, the next-door neighbor, just wants to find a safe place to stash the Virgin Mary.  (Developed under the guidance of Henry Murray at Dramaturg's Table at the Rogue Machine, Los Angeles.)
Strawberry          2w; 1m   full-length   drama
In a parched, wind-beaten burial ground in the growing fields of Central California, a young botanist comes to search for the last remnants of soon-to-be extinct species. But her real quest is for a key to her own origins. In her search for the lost, she runs up against Celia, a young undocumented migrant worker desperate for a chance at life, and Ray, a deputy sheriff who is not too keen on any disruptions to a fragile existence that is already in danger of dying.  (In development in the inaugural Boston Court Theatre Playwrights Group, 2021.)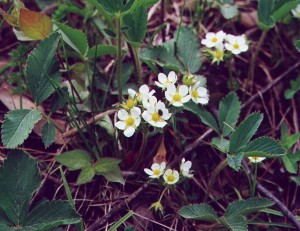 A sampling of a few of Paula Cizmar's SHORT PLAYS
Yerba Buena          2w    one-act   drama
It's 1844 and San Francisco is still a Spanish settlement called Yerba Buena. Juana Briones, a mixed-race pioneer of the area, an herbalist, curandera, rancher, and businesswoman, desperately needs a divorce from her abusive husband so she can acquire land on her own. But who will help her go up against the strict laws of the Catholic Church?   (Written as part of 365 Women A Year: A Playwriting Project)

Night Vision          2w; 1m    one-act   drama  
A young street artist secretly paints political messages on crumbling walls in a Middle Eastern country at war.   The artist, it turns out, is female—disguised as a boy—and her identity is in danger of being exposed by Mina, an Arab American reporter covering the war for American media.
For questions about any of these plays or info on how to obtain a copy of one of these plays, send Paula an email.
Paula is represented by:
Samara Harris
The Michael Moore Agency
240 W. 24th Street, Suite 1C
New York NY 10011
212.221.0400