Paula Cizmar is a playwright and librettist whose work has been produced in all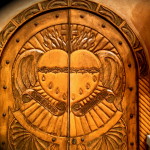 types of venues all over the world. Her work combines poetry and politics and is concerned with the way stories get told in a culture—and with who gets left out of the discussion. Beginning with The Death of a Miner, her first off-Broadway play, she has been concerned with rights, class, and diversity issues—always with a focus on the human story as well as a heightened use of language. Produced by the Women's Project at the American Place Theatre, Miner starred Sarah Jessica Parker and Mary McDonnell and earned Cizmar an NEA grant and a Susan Smith Blackburn Prize Special Commendation. Theatres producing her work include Portland Stage Company, the Jungle Theatre (Minneapolis), San Diego Rep, Passage Theatre (NJ), Theatre LaBeet and Croydon
Warehouse (London), Playwrights Arena @ LATC, CalRep, Lower Depth Theatre Ensemble, and Antaeus Theatre. Among her many plays are Candy & Shelley Go To the Desert, Still Life with Parrot & Monkey, Ghost Dance on Mulholland, and Bone Dry. Her short works, Cupcakes and Pretty Places, have been done at Actors Theatre of Louisville.  Street Stories, a play described by an admiring reviewer as "a prose poem to urban, multicultural Los Angeles," was awarded three Critics Picks for the Playwrights Arena production. Venus in Orange, a playful performance piece about gender issues, co-written with Laura Shamas, explores issues relevant to contemporary culture.
---
The critics on Bone Dry: "… she [Cizmar] has a sharp ear for dialogue. And her characters are all distinctly drawn, from Cooper's Oscar, a half-Mexican prickly about slights to his heritage, to Pool's Eddi, a worker bee who is mourning her father. Eddi's energy is so dyspeptic that her own dogs have fled the house she shares with landlord-boyfriend Oscar. And Wendy Lehr's Crystal is a crazy delight – a touched woman who takes dictation from God and shares it with the world as poetry." —Rohan Preston, Minneapolis Star Tribune
---
Paula has received commissions from Antaeus Theatre, Lower Depth Theatre Ensemble, Salt Lake Acting Company, Echo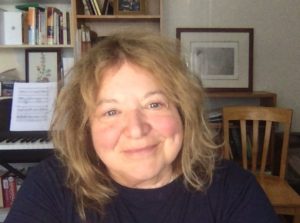 Theatre, Portland Stage Company, Actors Theatre of Louisville, the Women's Theatre Project of Minnesota/Jerome Foundation, and Playwrights Arena in association with Center Theatre Group. Her numerous residencies include Playwright in Residence at Skidmore College, Ohio University, and Portland Stage, and an international residency at the Rockefeller Study Center at Bellagio, Italy. Her work has been selected for both Sundance and the O'Neill National Playwrights Conference, as well as Voice and Vision Theatre's Envision Retreat at Bard. Among her many awards are two NEA grants, the DramaLogue Award, the NYCWAM Collaboration Award (Honorable Mention), the Medal of Merit from Ohio University, and a TCG/Mellon ON the ROAD grant.
---
The critics on Candy & Shelley Go to the Desert:  "a delightful funny character comedy…" —Daily Variety   "Candy & Shelley is a hoot…" —LA Times  "…a source of impressionistic pleasure…" —The Guardian (London)
---
Paula Cizmar's work strikes many different tones, often using comedy and a break with literal realism to get at the heart of a character and a story. A former journalist, she has also worked with true-life stories and is one of the authors of the acclaimed documentary theatre piece, Seven, written in collaboration with Carol K. Mack, Catherine Filloux, Gail Kriegel, Ruth Margraff, Anna Deavere Smith, and Susan Yankowitz. The play has been performed at venues large and small, including a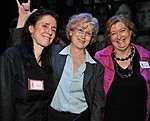 performance at the Hudson Theatre in New York to kick off the Women in the World Summit, directed by Julie Taymor, starring Meryl Streep, introduced by then-Secretary of State Hillary Clinton. Seven focuses on the courageous struggles of ordinary women who became extraordinary activists campaigning for human rights around the globe. The play has been translated into 20+ languages and has been performed all over the world, including in Japan, Morocco, Jordan, Northern Ireland, Nigeria, Belgium, Ecuador, and Argentina. Director/producer Hedda Krausz Sjogren and Riksteatern, the national touring theatre of Sweden, in partnership with the Swedish Cultural Ministry, brought the play to numerous countries including The Netherlands, Latvia, Lithuania, Afghanistan, Ukraine, and six countries in the Balkans.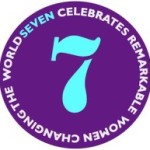 Seven was selected for the 18th Istanbul International Theatre Festival and was performed there in Turkish. In winter 2014-2015, the play embarked on a tour of four cities in India—Chennai, Mumbai, Delhi, and Jammu—as part of the See Something?/Say Something! campaign to encourage people to take action against gender violence. In 2016 the play was performed in Ecuador, the U.K., and Japan, and in the United States it played in several cities as part of The March to MARCH, a grassroots campaign to celebrate International Women's Month.  An event at George Washington University was filmed for a documentary called The Power of Seven and a  Japanese translation of the play by Riho Mitachi was recently released.  In 2017, the play was recorded by LA Theatre Works in front of a live audience at the James Bridges Theatre, directed by JudyAnn Elder, and it aired on public radio in the U.S. and China; the recording became an audiobook that made the Audiofile 2017 Audiobook of the Year list.  In 2019, a movement-oriented version of the play, directed by Natsuko Ohama, was produced by Elmira Rahim and the Elan Ensemble at Atwater Village Theatre in Los Angeles.  Other performances continued in 2019-2020 with a 22-city tour produced by LA Theatre Works–although the tour was cut short in March when quarantine conditions began due to covid-19/coronavirus.
---
The critics on Seven: "Riveting, explosive, and inspiring drama…starkly emotive…reaffirm[s] the belief that one person could indeed make a difference."—Huffington Post     "It was impossible not to be inspired by the widely varying examples of courage that the project corralled." —Washington Post
---
In the cinema-TV world, Paula has written and developed projects with many film producers and was a staff writer on the highly regarded PBS series, American Family, starring Edward James Olmos, Raquel Welch, Esai Morales, and Sonia Braga.
Among her latest theatre works are January and The Chisera, both nominated for the first Kilroy List, plus she was commissioned by Playwrights Arena to write Norteño, an updated adaptation of Fuenteovejuna, a Lope de Vega play from the Spanish Golden Age. Norteño was performed at Golden Tongues 2 in Los Angeles at the William Andrews Clark Library On the Grounds event.  She is also a part of 365 Women a Year:  A Playwriting Project and wrote three one-acts for them:  Yerba Buena, about Juana Briones, a multiracial woman who was one of the founders of San Francisco; Gospel Train, about female members of the Underground Railroad; and Boundless, about the Hindu mystic and saint Akka Mahadevi. As an example of how she frequently works at the intersection of art and politics, her short plays for the Climate Change Theatre Action (CCTA) have been presented all over the world:  Appealing was performed in the 2019 CCTA, and The Pageant was part of the CCTA for 2021.  Her play, The Last Nights of Scheherazade, won the Israel Baran Award for best new unproduced play.  Other works in progress include Strawberry; Along the River, Almost Winter; and Anonymous Me.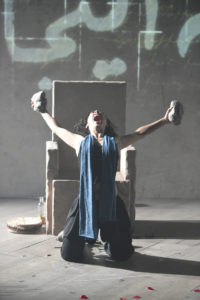 One of her newest works, Antigone X, is an updated look at the Sophocles classic from an all new and nontraditional point of view.  Set in a refugee camp outside the ruined city of Thebes, which is plagued by a demagogue, Antigone X is a fierce cry for commitment to equality and justice, offering hope for engaged activist citizens.  It was commissioned for the MFA Rep at USC and was directed by Anita Dashiell-Sparks;  in 2018 it was produced by Cal Rep, directed by Jeff Janisheski.  Antigone X was published by NoPassport Press in 2018.
In addition to her plays, she is also working on nonfiction projects, including Sacrifice Zone: Los Angeles, a multimedia documentary theatre piece she is creating with Michael Bodie, Fran de Leon, and the community members of People Not Pozos, an environmental justice project led by Hugo Garcia.  The prototype of the project was presented at USC, funded by Arts in Action, in March 2021, with a second prototype following in April 2022.   Other work in this area includes Water Rites, a multimedia/multidisciplinary project that looks at a precious resource from all angles, from the mundane to the spiritual.  She is also working on a play about human trafficking, Slag, which combines a fictional story with documentary interviews.
She was commissioned by Playwrights Arena and Center Theatre Group, along with six other women playwrights, to write The Hotel Play, a collaborative site-specific, immersive play that was produced at the Downtown Los Angeles Radisson Hotel in 2017 to celebrate Playwrights Arena's 25th anniversary–and to mark the 25th anniversary of the civil unrest of 1992 following the acquittal of police officers in the Rodney King beating that was captured on video.
During the pandemic, Paula was commissioned by Lower Depth Theatre Ensemble to write two short pieces, Delivery and Underground, for the Pandemic Plays project–which was presented virtually by LDTE in July 2021.   
In 2021, she was selected to write for Season 2 of the Zip Code Plays, the audio theatre series produced by Antaeus Theatre Company.  Her play, The Vig, directed by Bernadette Speakes, is set at the Hollywood Park Race Track, Inglewood 90303, just a week before it closed forever;  the cast includes Ellis Greer, Don McManus, and Keiana Richard and is available as a podcast.
As a producer, she generates projects that unite the arts with social justice themes. One of these, LA – At the Intersection, was a festival of work taking on environmental justice issues produced at the Natural History Museum of LA County;  it included her micro-opera, A Hole in the Sky (music composed by Guang Yang, directed by Giovanni Ortega). 
Besides being a playwright, she is also a librettist.  With composer Nathan Wang, she is writing Golden, a musical theatre piece which was selected in an international competition by the Adam Mickiewicz Institute.  Act One was performed in Los Angeles in the Fall of 2018;  Act Two is in process.  
In the opera world, she wrote the libretto for The Night Flight of Minerva's Owl, with music by composer Guang Yang.  Guang and Paula were one of three composer/librettist teams selected to perform part of their operas at Pittsburgh Festival Opera's Music That Matters/Fight for the Right event and were selected as the winners of Fight for the Right. The opening of Owl was presented in a video version that included animation and puppetry in 2021 by Thornton School of Music.  Guang and Paula also wrote the short opera, Invisible, which was performed as part of The Body Female Collective in the LA Opera Eurydice Found Festival in January 2020 and is part of Snapshot 2021, produced by West Edge Opera and Earplay at Bruns Amphitheatre in the Bay Area.  Guang and Cizmar received a Let's Celebrate! commission from White Snake Opera, and their piece, Firecrackers, will premiere at White Snake in Boston in 2022.
Paula is an inaugural member of the Boston Court Theatre Playwrights Group, plus she is a member of the Playwrights Lab at Antaeus Theatre and the inaugural Writers Odyssey at the Odyssey Theatre.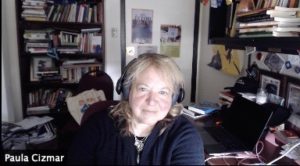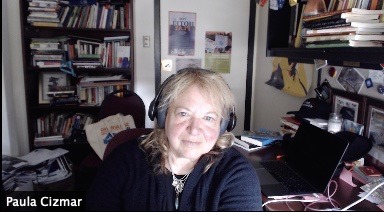 Also an educator, she is an Associate Professor of Playwriting at the University of Southern California. She teaches in USC's School of Dramatic Arts' MFA in Dramatic Writing program and is a recipient of the Mellon Mentoring Award, as well as four Visions and Voices grants, and a Center for Scholarly Technology award.  At USC she is part of the creative team that runs Warrior Bards, an Arts in Action program for veterans, and she created a new Arts in Action project, Sacrifice Zone: Los Angeles, which takes on environmental justice issues.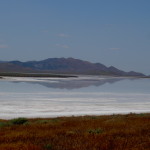 She lives in California with her collaborator and husband Daniel Cariaga, a writer/musician who is also a Registered Nurse; they are dog lovers and never miss an opportunity to schmoodle with any unsuspecting pup or pooch that they encounter in their travels.
To contact Paula Cizmar, just send an email:  paulacizmar  at gmail
 Paula is represented by:
Samara Harris at the Michael Moore Agency
450 W. 24th Street, Suite 1C
New York NY 10011
samara@michaelmooreagency.com
  phone: 212.221.0400