Group Projects, Collaborations, Curated Collections of Plays
---
The Hotel Play    9 w; 5 m; 1 transgender woman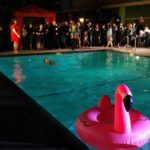 The Hotel Play is a site-specific play written by Paula Cizmar, Velina Hasu Houston, Jennifer Maisel, Nahal Navidar, julie taiwo oni, Janine Salinas, and Laurie Woolery.  Commissioned by Center Theatre Group and Playwrights Arena, the play marks the 25th anniversary of the Los Angeles Uprising, when the city was in chaos following the acquittal of police officers in the Rodney King beating trial–one of the first instances of police brutality against a black man that was caught on video.  Even though there was visual evidence of their crime, the police were nevertheless found not guilty by an all-white jury in Simi Valley, a suburb outside the diverse urban area of Los Angeles.  In this play, set at a hotel at the 25th high school reunion of a group of people who didn't get to graduate when the city was erupting in violence, old flames get reignited–and old hurts turn up as well.   The question becomes:  Has anything really changed in 25 years?  Are we as Americans just as backwards in dealing with race as we were back then?  And how can we move toward healing.   With a cast that represents the multiethnic faces of the people of Los Angeles, the play was directed by Jon Lawrence Rivera and was performed in the rooms and in the pool area of the downtown LA Radisson Hotel.
Forage  2 characters (m or f)
Part of GENJI REDUX – A re-telling/re-imagining of The Tale of Genji, curated by Velina Hasu Houston, for the Shinso Ito Institute, with contributions by multiple authors.  Forage is a quirky re-invention of the story of The Safflower Princess: "Why did I pick up this safflower when its hues were not the least remarkable?"
Odds  3m; 1 w       The Three Minutes of Herr…  2 m        Darling Mr. X   1 m; 1 w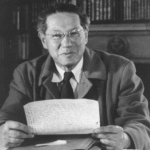 Three short plays for FEUCHTWANGER RE-FRESHED,  a three-season revisiting of the works of Lion Feuchtwanger, a German-Jewish novelist and playwright who was number six on Hitler's list of public enemies.  With individual contributions by multiple writers, season 1 is based on Feuchtwanger's memoir The Devil in France, a story of his imprisonment by the Nazis in a French internment camp and his eventual escape; season 2 is based on writing ideas from his notebooks; and season 3 is based on Feuchtwanger's letter to the Nazi occupants of his house in Berlin, 1933.  Curated by Oliver Mayer.  Performed at Villa Aurora, Los Angeles.

Seven           7 w
A documentary play about women who do the dangerous work of human rights activism around the globe. Conceived by Carol K. Mack and written by seven award-winning playwrights–Paula Cizmar, Catherine Filloux, Gail Kriegel, Carol K. Mack, Ruth Margraff, Anna Deavere Smith, and Susan Yankowitz—Seven has been translated into 20+ languages and has had productions ranging from  Europe to Africa, Asia, and the Middle East.  The women profiled in the play–Hafsat Abiola (Nigeria), Farida Azizi (Afghanistan), Anabella de Leon (Guatemala), Mukhtar Mai (Pakistan), Inez McCormack (Northern Ireland), Mu Sochua (Cambodia), and Marina Pisklakova-Parker (Russia)–worked alone, often under threats of violence, and without the help of their local governments in order to battle violence toward women, corruption, trafficking, and injustice.  For a look at a collection of photos from around the world, see the Seven page on this website.  And for more details on the history of the play, plus news of past and upcoming performances, check out the Seven website for more info.
Seven is published by Dramatists Play Service and is available either through DPS or on Amazon.  It is also published in the Methuen Drama Anthology of Testimonial Plays.  And it is available as an audiobook, produced by LA Theatre Works.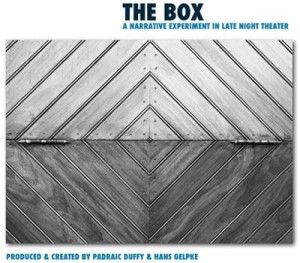 The Box  4 w; 5 m
Created by Padraic Duffy  & Hans Gelpke, The Box is "a narrative experiment in late night theatre" written by 35 selected writers–one of whom was Paula Cizmar–each with different voices and distinct styles.  Playwrights were given a premise and asked to contribute scenes to be performed in random sequence.  Duffy and Gelpke created a Writers Manual–containing character descriptions, locations, historical background, images–from which each of the highly diverse writers created short scenes (without consulting each other!) about a mysterious young man returning from war, told through the experiences of 9 characters in a small fishing village in 1918. Each night, producers selected never-performed vignettes from The Box and actors portrayed an original, fractured, haunting, mind-bending tale–until all the scenes were staged. Told over three Saturdays in July 2015 at 11 pm, the mysterious story revealed: Who is this man? Where has he come from? And what is The Box?
Sold out performances at Sacred Fools Theatre in Los Angeles were directed by Padraic Duffy.   Performed by Leon Russom, Ruth Silveira, Rebecca Larsen, Bryan Bellomo, David LM McIntyre, Dana Lyn Barron, Corryn Cummins, Francisco Rodriguez, Curt Bonnem, and Ian Patrick Williams.
Written by Neal Alvarez, Lemon Baardsen, Zachary Bernstein, Paula Cizmar, Bob DeRosa, Christopher DeWan, Mike Dressel, Erik Engman, Annette Fasone, Aaron Francis, Summera Howell, Jay Garrett, Nat Gertler, Marian Gonzalez, Jon Jory, Mildred Lewis, Sarah McKinley Oakes, Tifanie McQueen, Paul Plunkett, Ari Radousky, Erika Rose, Scot Shamblin, Jacob Sidney, Gregory Sims, Graham Skipper, Ann-Giselle Spiegler, Scott Stein, Vanessa Stewart, Caridad Svich, Sean Sweeney, Alisa Tangredi, Mac Wellman, Nathan Wellman, Ian Patrick Williams, and Paul Hoan Zeidler.
"Mesmerizing…"  "Riveting–that's the word:  Riveting…"  "Not to be missed."      For more information, contact any of the writers via email or Padraic Duffy or Sacred Fools via Facebook.
Venus in Orange            6 – 8 w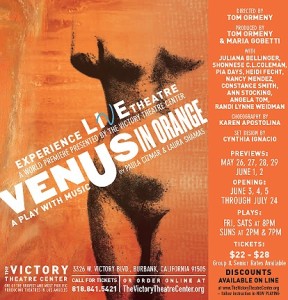 a performance piece with movement and music exploring the lives and loves of young So-Cal women in the 21st century. VENUS combines documentary elements with myth, magic, and dreams in a collage of scenes, monologues, movement, and spoken word. Flexible casting can range from as few as 6 performers to 8 or more.
Written by Paula Cizmar and Laura Shamas.
Produced by Cypress College, Cypress, California,  and Victory Theatre Center, Burbank.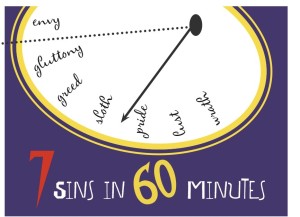 7 Sins in 60 Minutes           2 w; 2 m
A rapid-paced roller-coaster tour of the Seven Deadly Sins, updated for the 21st Century. Written by Paula Cizmar, Cheryl Davis, Olga de la Fuente, Chisa Hutchinson, Natalia Naman, Anne Phelan, and Melisa Tien.
Conceived and directed by Melanie Sutherland.
Produced by Lanie Zipoy and AAI. Produced at the HERE Summer Sublet Series, New York City, and at PlayGround, Philly Fringe.  2010.
---
More collaborations coming soon…including a piece in 45's 24 (a project of ProtestPlays.org) and a published version of Paula's The Portal in We Are Theatre–a collaborative piece written for Guerrilla Girls on Tour, performed at the Cherry Lane Theatre.
---
For more information about Paula Cizmar's work, including a list of productions, awards and honors, panels, conferences, speaking engagements, and teaching, send an email.