Rehearsals with an orchestra are so utterly delightful, kind of a playwright's idea of heaven–especially when the musicians are superb. And the musicians for GOLDEN are just so incredibly talented and dedicated. Here's a view of the sitzprobe–just the schmancy term for when the orchestra and the singers meet for the first time. It's just band practice! Musicians are Nathan Wang on piano, Philip Bynoe on stand-up bass, Kevan Torfeh on cello, Shelly Ren on violin, Joe Nazaretta on woodwinds, and Ben Masters on percussion.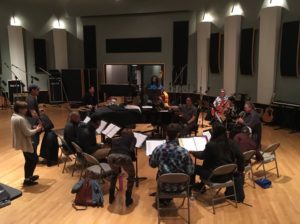 GOLDEN
Paso Robles, California. Old World meets New World. The American Dream. Or is it?
Book & lyrics by Paula Cizmar
Music by Nathan Wang
Directed by Diana Wyenn
In GOLDEN, a new musical, an Old World concert pianist, Ignacy Jan Paderewski, comes to see America with new eyes when he meets a young Black piano prodigy. This project has been commissioned in co-operation with the Adam Mickiewicz Institute as part of the international cultural programme POLSKA 100 accompanying Poland's centenary of regaining independence.
GOLDEN was composed by multi-Emmy-award winning composer Nathan Wang, with book and lyrics by award-winning playwright Paula Cizmar, who is also a professor at the University of Southern California. Set in the time preceding World War I, we meet Paderewski, weary from nonstop touring, raising money for charity, and advocating for a free Poland. At a small California hot springs town where he has come to take the cure, Paderewski is at a low point, ready to give up on his efforts. But then he encounters Delilah L. Beasley—the first Black female columnist for the Oakland Tribune—and she has other plans. I.e., she's convinced that Paderewski needs to take on a student, namely Theo Wally Johnson, a Black piano prodigy. The Old World statesman—who idolizes America—comes to see the American Dream in a new light as he starts to bond with T Wally, whose world is a great deal different than Paderewski's. The question becomes: Will any of us ever be free? And what do we use in the fight?
The cast members of GOLDEN have worked in film, TV, and onstage in a wide range of venues including at Los Angeles Opera. Musicians for the piece have performed in multiple orchestras and have appeared on Grammy award-winning recordings. GOLDEN is directed by Diana Wyenn, the artistic director of TIOH Arts & Culture; her credits include projects at REDCAT and the LA Philharmonic.
This project has been commissioned by The Adam Mickiewicz Institute in collaboration with the following Institutions: UCLA TFT, USC School of Dramatic Arts, Ghost Road Company, Playwright Arena, Wang Music International, CAC New Orleans, University of New Orleans, Tricklock Company, The University of New Mexico – UNM, Philadelphia Theatre Company, MASS MoCA, The Consulate General of Poland in Los Angeles, Polish Cultural Institute New York, as part of the international cultural program POLSKA100 accompanying Poland's Centenary of regaining independence. Co-financed by the Ministry of Culture and National Heritage of the Republic of Poland as part of the multi-annual program NIEPODLEGŁA 2017-2022.
Cast:
Our Lady/Lily Nandani Sinha
The Hussar/Rufus Orson Van Gay II
Paderewski Robert Mammana*
Madame P Heather Marie Marsden*
Delilah L Beasley Angela Carole Brown
Theo Wally Johnson Chris Thume
Ensemble Annika Chavez
Ensemble Taubert Nadalini
*These actors are appearing courtesy of Actors Equity Association.
Musicians:
Piano Nathan Wang
Violin Shelly Ren
Cello Kevan Torfeh
Woodwinds Joe Nazzarretta
Bass Philip Bynoe
Percussion Ben Masters
Musical Director Nathan Wang
Production Stage Manager Alex Rehberger
Projections by Simon Chau
Lights by Joey Guthman
Costumes by Mylette Nora
Sound design by John Zalewski
Props by Effy Yang
Running Time:
Approximately 65 minutes
For reservations: www.bitlycom/goldenLA
Questions:
Please email goldenthemusical6@gmail.com