Actually, it's in progress and moving into Phase 2.   Water Rites is a big project–so I can only deal with it by thinking of it as a single step, and then another, and then another.  It's a hybrid project–so I can only deal with it by thinking of it as first one piece, then another, and another.  But in essence, Water Rites is a piece that is intended to be what Arne Naess, the founder of the Deep Ecology movement, called "taking a beautiful action."  No one wants to hear what's wrong, so let's focus on what we are passionate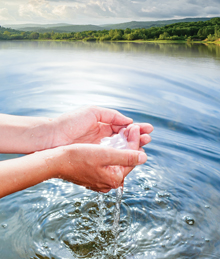 about.  Water Rites is a piece that my husband, Dan Cariaga, and I are collaborating on–a multimedia celebration of water, designed to cause us all to fall in love with this essential part of life and to therefore demand its protection.  Water Rites is a project that is being presented at Visions and Voices with the help of two fabulous USC producing partners:  Debora Chan-Southwell of the Provost's Office and Emma Frances Bloomfield of Annenberg. We all know that there is a growing crisis with the state of the Earth, we all know there is a horrific drought in California, and we all know that water shortages are creating devastating personal and political consequences in countries where water infrastructure/policy is weak or nonexistent.  (I could give you a list of hundreds of books and essays to read on these topics–send me a message if you want to dig in.)  What Dan and I intend is to explore the rites, rituals, and rights associated with water–and to present them as a combination of fictional piece and documentary.  And all of this goes into USC's Visions and Voices event, presented on March 1, 2016.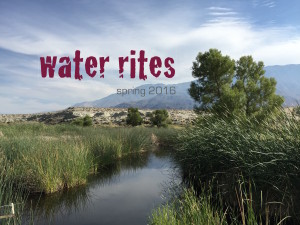 And so–the August Research Trip/Phase 2 begins.  We're off to some of the hottest places in the state.  For those of you who know me well, you'll know that this is a supreme sacrifice on my part, since I am not fond of temperatures that go much higher than 62 degrees F.  I like fog, wind, ice.  But this is when we have the time, and so this is when we're going.  The Central Valley.  Lone Pine.  Bishop.   Sacramento.  Napa.  Shasta.  To meet with some of the most amazing people in the state of California who are taking action for what they love:  rivers, oceans, fish, waterfowl, creeks, streams.    Many many pictures to follow….